Zedu Weekly Wrap – 21 May 2021
Isn't technology amazing.
This week we welcomed onboard the GE VScan Air – the latest in a growing arsenal of handheld systems making a splash in the world of POCUS. Images that could be achieved on large systems only a few years ago are now commonplace in a small, lightweight package – all at a price an individual can now afford.
And this accessibility makes developing your own scanning abilities all the more important – knowing how to optimise and troubleshoot your images underpins confidence and results in better patient outcomes.
So if ultrasound is on your end of financial year wish list, get in touch. We can bundle a system and education together for you to give you the technology and skills that will keep you at the cutting edge.
See you next week
Suean and Mike
P.S. – our awesome #coachingcorner with James and Mark on POCUS in podiatry is now available anytime on our website.
21 May
@PLOSOne
Incidence of deep vein thrombosis through an ultrasound surveillance protocol in patients with COVID-19 pneumonia in non-ICU setting: A multicenter prospective study
@PLOSOne
Automatic semantic segmentation of breast tumors in ultrasound images based on combining fuzzy logic and deep learning—A feasibility study
The popliteal sciatic (aka pop sci) block is great for distal lower extremity injuries. Check out the BRAND-NEW 5MS video here: https://t.co/Fcy3Nw7AB7#FOAMed #MedTwitter pic.twitter.com/P33bNVYz9b

— Jacob Avila (@coreultrasound) May 20, 2021
20 May
Time to discuss some rationale/evidence behind doing #VExUS #POCUS #Nephrology
A short #tweetorial #MedEd 👇
1/ Is fluid overload harmful?
of course yes. Here is a recent meta-analysis. pic.twitter.com/mPi54gJccp

— NephroPOCUS (@NephroP) May 19, 2021
@UMEmergencyMed
UMEM Educational Pearls: Diagnostic performance of Ultrasound for detection of pediatric elbow fractures
19 May
The answer is…
Nutri-Grain. And it's not just for breakfast – makes a great dessert (apparently) – https://t.co/aRPCX1xcU7

Did you get it right?
Sorry @DRsonosRD @amit_pawa – at a distinct disadvantage

Tune in next Tuesday for more!#POCUS #whatsthisfood #ultrasound #zedunow pic.twitter.com/gUdPahF0B5

— Zedu #wearamask 😷 (@zedunow) May 19, 2021
@emdocsdotnet
POCUS diagnosis: simultaneous bilateral patellar tendon avulsions
Future of #POCUS is bright
Tool for all medical providers – difference will be scope, and decision making#AI to help acquire and interpret images

Just in time learning

Patient performed scans

All on the horizon https://t.co/ZkKOl4MDr3

— Joseph Minardi (@jminardi21) May 19, 2021
18 May
Great working with you on this @OuraniaVarsou, @LloydTurbitt and @DavidBstl…https://t.co/2RoP0PT1uB

Hope we can do some more work like this together soon. Thanks for supporting us @SmarterScanning #RegionalAnesthesia #AI #POCUS

— James Bowness (@bowness_james) May 18, 2021
The #pocussaves webinar that was on 14th May 2021 is on https://t.co/Fn10zzgUos. Watch @VTEMSONO @PetermoranPeter @NixLimerick @RussUltrasound and @cianmcdermott speak about the way #pocus changed pt management for the better

Drop a like and subscribe for further updates. #echo

— Nicolas Lim (@POCUSClub) May 18, 2021
Oh hey #POCUS friends! Check out our new article from our amazing #familymedicine US fellowship director @ebethdearing and team ➡️➡️➡️. Images in Primary Care Medicine: Point-of-Care Ultrasound in Gout https://t.co/DSDDaDyGja @GWEMresidency @GWSMHS @portelamd @SCUFellowships

— Kat Ogle MD (@DrKittyKat) May 18, 2021
@ACEPNow
Using Ultrasound to Diagnose Patient with Bilateral, Atraumatic Hand Pain
@aiumultrasound
Ultrasound Imaging of Obese Pregnant Women
@itnEditor
AI Able to Predict COVID-19 Mortality From Cardiac Ultrasound Measurements
@DovePress
Current Use, Perceived Barriers, and Learning Preference of Point of Care Ultrasound (POCUS) in the Emergency Medicine in Qatar – A Mixed Design
@WFUMB
Comparison Between 360° 3-D Transvaginal Ultrasound and Magnetic Resonance Imaging for Assessment of Vaginal Invasion in Cervical Cancer: A Preliminary Report
@itnEditor
New Ultrasound Technique Detects Fetal Circulation Problems in Placenta
@ACEPNow
17 May
ACEP's new Policy Statement for Ultrasound-Guided Nerve Blocks, deeming them a "core skill which emergency physicians are capable of providing… & core component of a multimodal pathway to control pain for pts in the ED". Thank you to all who contributed!https://t.co/AbNEiLmM8x https://t.co/U4yeeC77M7 pic.twitter.com/cDWFExGXne

— ACEP Ultrasound (@ACEP_EUS) May 17, 2021
🥁Important announcement! 🥁
Due to overwhelming demand, we have increased no. of free registrations! currently still cca. 800 left, register 'til stock lasts!https://t.co/0sMtISr9oK pic.twitter.com/IZ7Q2yVXr8

— WINFOCUS (@WINFOCUS) May 17, 2021
@ALiEMteam
PEM POCUS Series: Hip Effusion | Test your skills on ALiEMU
16 May
@ASE360 @ACCinTouch
ACC.21 Presentation Slides | WASE-COVID: Human vs. Machine Learning-Based Echocardiography in Acute COVID-19
@ISUOG
Routine first-trimester combined screening for pre-eclampsia: pregnancy-associated plasma protein-A or placental growth factor?
15 May
Venous Insufficiency Case/Protocol https://t.co/0Zsm5E1pEN

— Sonographic_Tendencies (@trigeminy_henry) May 14, 2021
@PLOSOne
Ultrasound-guided dynamic needle tip positioning technique for radial artery cannulation in elderly patients: A prospective randomized controlled study.
@ESC_Journals
EACVI recommendations on cardiovascular imaging for the detection of embolic sources: endorsed by the Canadian Society of Echocardiography
@AnnalsofEM
What is the diagnostic accuracy of chest radiography, ultrasound, and computed tomography for COVID-19?

New in JACEP Open: Assessing COVID‐19 pneumonia—Clinical extension and risk with point‐of‐care ultrasound: A multicenter, prospective, observational study.#FOAM, #COVID19, #POCUS, #Pneumonia, #ICU https://t.co/8H2Y4JTgqW@EmergencyDocs, @ACEPNow, @Wiley_Health, @WileyinResearch pic.twitter.com/sRtxYMiH0p

— JACEP Open (@JACEPOpen) May 19, 2021
Technology in Medicine
The Use of Handheld Ultrasound Devices in Emergency Medicine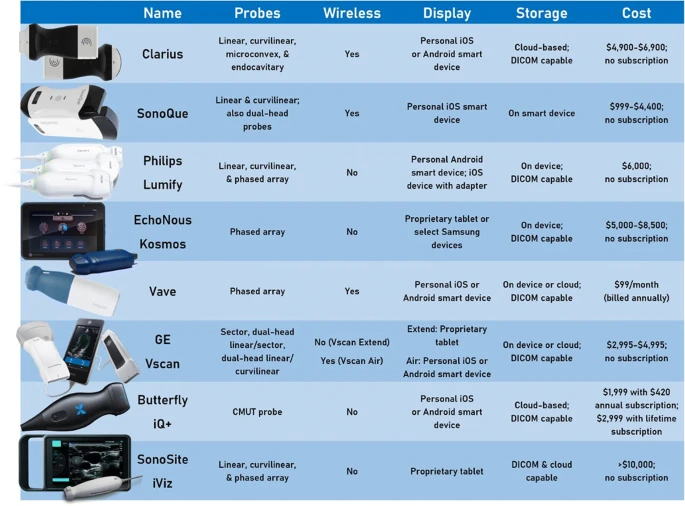 78 y-o w/ kidney disease presented to ED w/ dyspnea & later developed abdominal pain. #POCUS of an unknown subcutaneous mass revealed an ovoid structure expressing the hematocrit sign, leading to diagnosis of rectus sheath hematoma: https://t.co/0dV5J1eymE #FOAMed #MedEd @iamritu pic.twitter.com/YEQAp3EY8F

— POCUS Journal (@POCUSJournal) May 14, 2021