Zedu Weekly Wrap – 19 November 2021
We've been busy…
catching up on two years of delayed courses and training. We're running fast and having a ball being back on the tools.
We do need your help though – we're always on the lookout for new patient models. If you know people that are in our vicinity (Greensborough), are willing to let people use their body for science and want to make a little cash on the side pass them in our direction. Registration forms and Q&As are on our website.
Plenty of free goodies from the #POCUS world this week – our friend Yale in Spain has an article on the early detection of severe covid using lung ultrasound that is well worth a read, as is having a look at the new @SocietyGIM and @yourICM resources.
And as always let us know if there is something you'd like to promote or if there is something we missed.
See you next week.
Mike and Suean
P.S. – the November edition of Coaching Corner is now available for your viewing pleasure – hear and see Allan outline ways ultrasound can replace x-ray in day to day practice – awesome cases and examples – check it out.
$$ SAVE $$
(Promotion ends December 10th or while stock lasts | Australian customers only)
19 November
📽️@ISICEM chat-Our 4 guests discuss the role & importance of #ultrasound in #ICU patients, how it should be integrated into daily patient management, challenges associated with the need for adequate training, & likely advances in the future.
Whatch it now https://t.co/UkU0ETnVai pic.twitter.com/yAoKPcpH5N

— ISICEM (@ISICEM) November 18, 2021
Check out new #impocus resources on @SocietyGIM website https://t.co/d5DiStvnmy. Thanks to expert contributions from @IMUS_Spokane @trobertson8@peterphanmd @G2Disrupt @HungryHospMD @IM_POCUS and Chris Smith. More good things to come! #SGIMPOCUS

— Mike Wagner (@SonoInternist) November 18, 2021
Concerned about a small bowel obstruction in your patient with abdominal pain? Check out the latest video from our ultrasound lecture series where @mtabbut talks about #POCUS for SBO. https://t.co/Seb09bUY65#Ultrasound #FOAMed #FOAMus #MetroEUS #EmergencyMedicine #Surgery

— MH_EMUltrasound (@MH_EMultrasound) November 18, 2021
1/ Welcome back #MedTwitter to Part 2 of #FocusPOCUS Guided LPs. Last time, we talked about the POCUS basics for LPs. Today, let's lean into the actual procedure.

First, how do we prepare the patient? pic.twitter.com/fYjdbq9Wzi

— CORE IM (@COREIMpodcast) November 18, 2021
New pinned tweet.
Summary of #POCUS in #nephrology: 4 recent articles in Kidney360 by our team.
🔗 https://t.co/3wP8vnnuCM
🔗 https://t.co/4XNymoPVmA
🔗 https://t.co/5nzBfNCLap
🔗 https://t.co/Dg2jFbGQYJ pic.twitter.com/Fq5SsH3Cx1

— Abhilash Koratala (@KoraAbhi) November 18, 2021
18 November
Lung #POCUS in #Nephrology article in the loop! @nephrothaniel 🙌#MedEd
🔗https://t.co/gzp26JMvhI pic.twitter.com/Xd3FupKCKE

— NephroPOCUS (@NephroP) November 17, 2021
Basic #ultrasound skills in #ICU & NCCU, @ESICM consensus & expert recommendations:
➡️brain
➡️lung
➡️heart
➡️abdomen
➡️vascular#FOAMcc #FOAMus #echofirst #POCUS
🖇️https://t.co/T1IuLlsomS
DO NOT miss supplementary files including additional figures & links to video description! pic.twitter.com/kbuIvuHvGI

— Intens Care Med (@yourICM) November 17, 2021
Serratus anterior plane block can be used as multimodal analgesia for anterior lateral rib fractures in the trauma patient. Today's module outlines the ultrasound guided technique.

LS🔒Members➡️ https://t.co/zVYGbWpeUF
Ref🆓#FOAMed👉 https://t.co/gxXVL36C1K pic.twitter.com/A7PsWjalui

— RCEMLearning (@RCEMLearning) November 17, 2021
Fun #POCUS fact: "bicornuate uterus" is not a dichotomous diagnosis – it's a morphological spectrum, and you can, in fact, get pregnant despite having a version of this morphology. @thepocusatlas pic.twitter.com/iCozBEFNcL

— Elias Jaffa MD MS (@jaffa_md) November 17, 2021
@EMNSpeedofSound
The Speed of Sound: How to Assess Volume Status with VExUS
@EMNews
Quick Consult Symptoms: Abdominal Pain and Hypotension
Ultrasound Int Open
Transthoracic Vector Flow Imaging in Pediatric Patients with Valvular Stenosis – A Proof of Concept Study
Ultrasound Int Open
Development of a Standardized Semantic Feature-Based Reporting Proforma for Intraoperative Ultrasound Findings in Brain Tumors and Application in High-Grade Gliomas – A Preliminary Study
Ultrasound Int Open
Pheochromocytoma and Adrenocortical Carcinoma: Morphological Characteristics in Endoscopic Ultrasound Imaging
17 November
Check out our Oct 2021 rounds! Lung Ultrasound in Critical Illness: A case-based discussion https://t.co/iq2BhUvnvt @UAlberta_ICU @UAlbertaAnesth @UAlbertaAnesth #POCUS #CCUS #FOAMus #SavingLivesWithSound pic.twitter.com/fZ7c4VYKfz

— Alberta Sono (@UAlberta_Sono) November 16, 2021
Neonatology @KargerPublisher
Use of Wireless Ultrasound Probe in Isolated Infants: A Case Report of Two SARS-CoV-2-Positive Mothers' Newborns
16 November
The November #coachingcorner is out now!

👉How to: Reduce x-ray ordering with #ultrasound

Our #POCUS guru Allan @POCUSvic_em makes the case that US should be your 'go-to' imaging modality

See how you can do it faster & better sans radiation ☢️ https://t.co/fppNfh4ZTj pic.twitter.com/0EdsZnEJF9

— Zedu #wearamask 😷 (@zedunow) November 15, 2021
1/ #MedTwitter good morning! We have a great #FocusPOCUS byte for you this week on guided lumbar punctures, divided into 2 parts. We'll release Part 2 on Thursday so stay tuned!
#POCUS Guided LP Part I: https://t.co/ndiPqpvqcA

To get us started, why do we use POCUS for LPs? pic.twitter.com/M1dwWCgV1l

— CORE IM (@COREIMpodcast) November 16, 2021
Ever wondered which lobe/segment of the lung you're scanning during #IMPOCUS (or during PE for that matter)? Check out our new surface anatomy page: #FOAMed https://t.co/dqhArxREpn pic.twitter.com/mXdIRFIMyH

— Irene Ma (@IM_POCUS) November 15, 2021
How I Do It: #POCUS for bedside diagnosis of lower extremity DVT.

Read the full article from the November issue: https://t.co/aDKbHSxK9I #CHESTPulmVasc pic.twitter.com/99uTWReBTA

— CHEST® Journal (@journal_CHEST) November 15, 2021
A New Type of Outpatient: Lung #Ultrasound after COVID-19 Infection https://t.co/yCWa27DDR6@AIUMultrasound #POCUS #pocusforcovid #Lungus

— Zedu #wearamask 😷 (@zedunow) November 15, 2021
@AIUMUltrasound
The Potential of Elastography in MSK Ultrasound
15 November
1/12
Hickum's Dictum in #POCUS

60f presents as a stroke alert. She was found unresponsive and hypoxic. EMS reports left sided weakness and left facial droop. She was intubated on arrival to to the ED for airway protection and sent for CT/CTA head and neck per the CVA protocol

— Josh Guttman (@drjgutt) November 15, 2021
Protocol vs clinically driven management in #sepsis??Care of pt facing septic shock requires all means we have… #POCUS powerful add-on but stand-alone protocols unlikely to pass future challenges with "usual care".
🧫https://t.co/4sHJPJLANP

🧫Refers to https://t.co/YCQ397SK4I pic.twitter.com/SUFcXr045H

— Intens Care Med (@yourICM) November 14, 2021
Transcatheter Aortic Valve Replacement (TAVR) Complications in the ED #FOAMed @EMHighAK @long_brit https://t.co/ElFRi7dzj4

— emDOCs Team (@emdocsdotnet) November 15, 2021
14 November
AJOG Expert Review: Ophthalmic artery Doppler in the prediction of preeclampsia – Dr. Kypros Nicolaides and colleagues present the 16th expert review in preeclampsia illustrating the use of ophthalmic artery Doppler in prediction of #preeclampsia https://t.co/fMUTQoS11P pic.twitter.com/H26T93biOx

— AJOG (@AJOG_thegray) November 13, 2021
@CASEfromASE
Metastatic Carcinoma to the Right Heart: The Complementary Utility of Contrast-Enhanced Echocardiography and Cardiac Positron Emission Tomography/Computed Tomography
13 November
Overview of the BLUE Protocol by @dr_jay2020 & @JMarksMD, excellent @USFIMres residents on #POCUS rotation with @DrValenzuela1 and I! https://t.co/mqCmrGAW4i #IMPOCUS #MedEd #ultrasound @USFInternalMed @USFHospMed

— Nikesh Kapadia MD (@drnikeshkapadia) November 12, 2021
The whole #POCUS anatomy rundownhttps://t.co/xmgNotMg72

— Ernest Fischer (@EAFischer) November 12, 2021
Lung #POCUS in the early identification of severe #COVID19.

Combined with PaFi can identify higher risk patients (Rho -0.897):
– ICU admission
– Requiring mechanical ventilation
– Longer hospital stay
– Mortality

Time to implement its routine use? https://t.co/JwcWxlJRhG pic.twitter.com/ph281Tlori

— Yale Tung Chen (@yaletung) November 11, 2021
Heartburn at night & #POCUS #FOAMus @trigeminy_henry @sono_sam @POCUS_Society @PocusPed @WINFOCUS @Wilkinsonjonny @zedunow @EMNSpeedofSound @MeuVerona @EM_RESUS @NephroP @DRsonosRD @RJonesSonoEM @srrezaie @MH_EMultrasound @EAFischer @POCUS_Toronto @jminardi21 @TaotePOCUS pic.twitter.com/KOxrxgrXNt

— Giuseppe Sfuncia (@Revivan75) November 12, 2021
Take a DEEP dive into #pocus and the jugular venous pressure by @dr_larryi. For the past year he has scanned hundreds of jugular veins and written the @POCUS_Manifesto. This is an in-depth technical expanded version of chapter 15. https://t.co/8YKl5f3J7X

— POCUS Med Ed (@pocusmeded) November 12, 2021
Concerned about pneumonia (or other consolidations)? Consider #POCUS! Look for hepatization, air bronchograms (dynamic =pna), shred sign, focal b-lines. Can expedite mgmt. Check out our Intern US of the Month by @DylsextonEM to learn more
🔗https://t.co/4XdJMv6jIt#FOAMed #FOAMus pic.twitter.com/W38VZcDMgW

— UH-Cleveland EM Residency (@UHCMC_ED) November 12, 2021
@CUREUS
The Abnormal Sinus Rhythm: Myxedema Coma Complicated by Subacute Cardiac Tamponade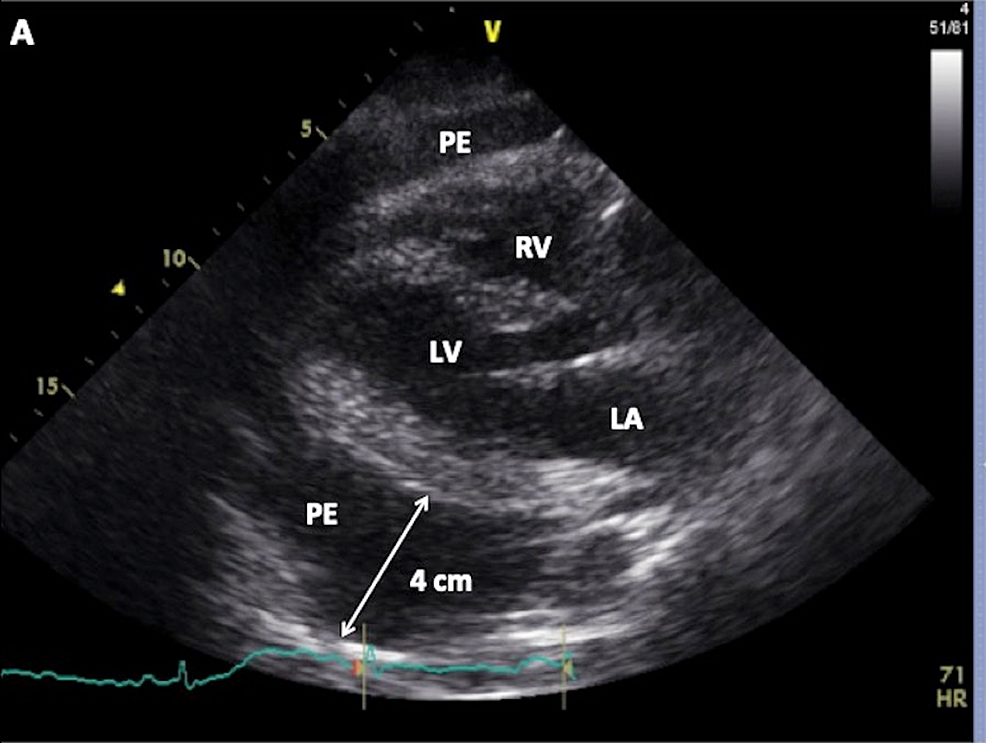 American Journal of Emergency Medicine
The effect of display size on ultrasound interpretation
Daily Mail
Harvard engineers build an exosuit that uses ultrasound to 'profile' wearers' muscles and helps them move around different surfaces without altering the suit
@DOVEPress
Evaluation of the Analgesic Efficacy of Bilateral Ultrasound-Guided Transversus Thoracic Muscle Plane Block on Post-Sternotomy Pain: A Randomized Controlled Trial
Pediatric Pulmonology
Lung Ultrasound to detect cardiopulmonary interactions in acutely ill children

@AIUMUltrasound
A New Type of Outpatient: Lung Ultrasound after COVID-19 Infection
Radiology Case Reports
Xanthogranulomatous cholecystitis on fusion of the planes of the liver
Radiology Case Reports
Popliteal artery pseudoaneurysm caused by non–penetrating trauma in a patient with hereditary multiple osteochondromatosis
Radiology Case Reports
Retromandibular vein ectasia : A parotid mass mimicker
Radiology Case Reports
Ultrasound-guided computed tomography angiography for the diagnosis of rotational vertebral artery occlusion: 2 case reports and technical notes